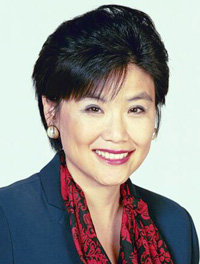 APA for Progress PAC Launches Glen S. Fukushima Campaign Fellowship and Placement with Judy Chu's Campaign for Congress
Asian Pacific Americans for Progress PAC (APAP PAC) today announced the launch of its Glen S. Fukushima Campaign Fellowship and the placement of the Fellow with Dr. Judy Chu's campaign for California's 32nd Congressional District, which will be vacant should current Congresswoman Hilda Solis resign to become the U.S. Secretary of Labor.

The campaign fellowship is made possible through a donation by Glen. S. Fukushima, a former Deputy Assistant United States Trade Representative for Japan and China at the Office of the United States Trade Representative (USTR), Executive Office of the President.

APAP PAC is currently accepting applications. Go to http://www.apaforprogress.org/apap-pac to learn more and apply. Applications are due on Feb. 28, 2009, at 11 p.m. Pacific Time.

Mr. Fukushima, a veteran of NCR Corp., AT&T Corp., and Cadence Design Systems, Inc., is a California native, a Fulbright Fellow, and a graduate of Stanford University, Harvard University Graduate School of Arts and Sciences, Harvard Business School, and Harvard Law School. He is currently CEO of Airbus Japan.

"With such a competitive race ahead of us, I'm so thankful for a Campaign Fellow from APA for Progress," said Dr. Chu. "The Fellow will play an important role in my efforts to share my experience and vision with the voters of the 32rd Congressional District."

"Judy Chu's entire public service career has been dedicated to improving the lives of her constituents and all Californians," said Curtis Chin, a member of APAP PAC. "As an educator, local school board member, a city councilmember and mayor, an Assemblywoman and now as chair of the California State Board of Equalization, Judy has proven to be a champion of a broad range of causes, including working families, education and government as a force for good."

"Throughout the 2008 presidential campaign, I saw the incredible impact that young activists were making in President Barack Obama's campaign," said Mr. Fukushima. "My support of the APA for Progress Campaign Fellow is one modest way that I can contribute to the ongoing growth and development of a new generation of political leadership."

"APA for Progress PAC would like to express our deep appreciation to Glen Fukushima for his investment in our program to promote young activists," said Chin. "Because of this support, we can not only assist Dr. Judy Chu in her campaign, but also provide an opportunity for a young person to learn about campaigning first-hand."

Asian Pacific Americans for Progress is a national network of progressive Asian Americans, Pacific Islanders and allies that organizes educational programs with an affiliated political action committee that endorses candidates and engages in campaign activities. For more information, visit apaforprogress.org.